Save Money Treating Fleas with Revolution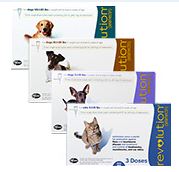 In our last post I told you how to save money on flea treatment by splitting large tubes of Advantage, made by Bayer, and Frontline, made by Merial. You can do the same thing and save money treating fleas with Revolution but there are a couple of differences.
Advantage and Frontline are regulated by the EPA and are now available over the counter. Revolution, made by Zoetis, still requires a prescription and is regulated by the FDA rather than the EPA.
Although it is a little more expensive than Advantage and Frontline, Revolution helps protect your pet against a wider variety of parasites. The active ingredient in Revolution is selamectin. It works by penetrating the skin and entering your pet's bloodstream. Concentrations of selamectin in the tissue and bloodstream prevent heartworm disease. Selamectin also redistributes into the skin from the bloodstream and kills adult fleas, American dog ticks, and ear mites, and prevents flea eggs from hatching. It is also an anthelmintic, which means it fights to expel parasitic worms. Parasites ingest the drug when they feed on the animal's blood. Revolution is safe for pregnant and lactating pets. Revolution doesn't have a growth regulator in it but the active ingredient in it does prevent flea eggs from hatching.
The thing I really like about Revolution is that it is quick-drying and non-greasy. If you are splitting tubes, it is imperative that you leave it in the tube it comes in and draw it from the tube with a needle as described in our previous post. The ingredient that makes it quick-drying also makes it very volatile. Once out of the tube and in a larger container, it can totally evaporate! Make sure the tube is tightly capped. I have read that it is advisable to store it in the refrigerator once opened.
The largest packet of Revolution is PLUM colored (for Extra Large Dogs) and is labeled for dogs 85.1 – 130 lbs. The volume of each dose of topical solution is 3 mL and the concentration of the drug is 120 mg/ml. THUS, each dose of PLUM Revolution for Extra Large Dogs (360 mg) can treat 24 kittens or 8 cats!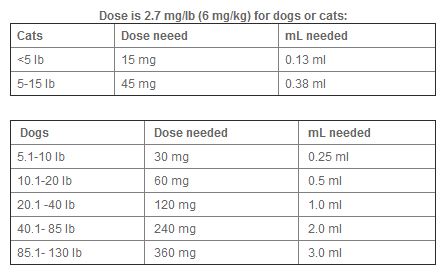 Please note: Veterinarians and drug manufacturers warn against tube splitting and doing so may void their liability. Some dog-only products, such as Advantix, can kill a cat. Do your own research and if you decide to split tubes be sure to:
Handle safely – wash your hands thoroughly after use
Store properly – in a cool, dark place
Use the appropriate dose