Welcome to my series featuring pocket pets, birds and reptiles where guest experts will give you the pros and cons to help you decide if a particular pet is a good fit for you. Today's guest poster is my friend Emily Hall who will be telling you about sugar gliders. I have been involved in rescuing relinquished and confiscated sugar gliders and know first-hand how adorable they are and the challenges they present.

10 Things to Expect When Owning Sugar Gliders
Sugar gliders – those adorable pocket pets that seem to be growing in popularity as of late. Yes, they are "squee" cute, and yes, they are lots of fun. I always tell my cats I wish I could put them in my pocket and carry them around with me everywhere; with my gliders, I can, and I do! They play, they snuggle, they "fly,"… let's face it, they are just plain cool. I absolutely love my two sugar gliders; however, I will be the first to admit to you that they are high maintenance.
You may be thinking, "Are they really that much different than having a cat, dog, rabbit, hamster, etc?" Yes, they are. Sugar gliders are considered to be an exotic pet, which means they have special needs and considerations. They are not for everyone. What makes them so different? Read on to find out…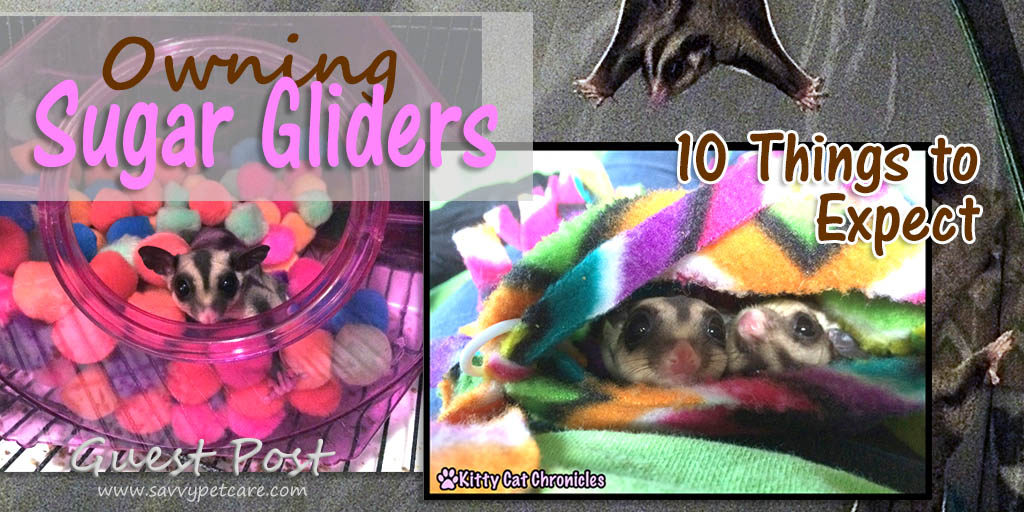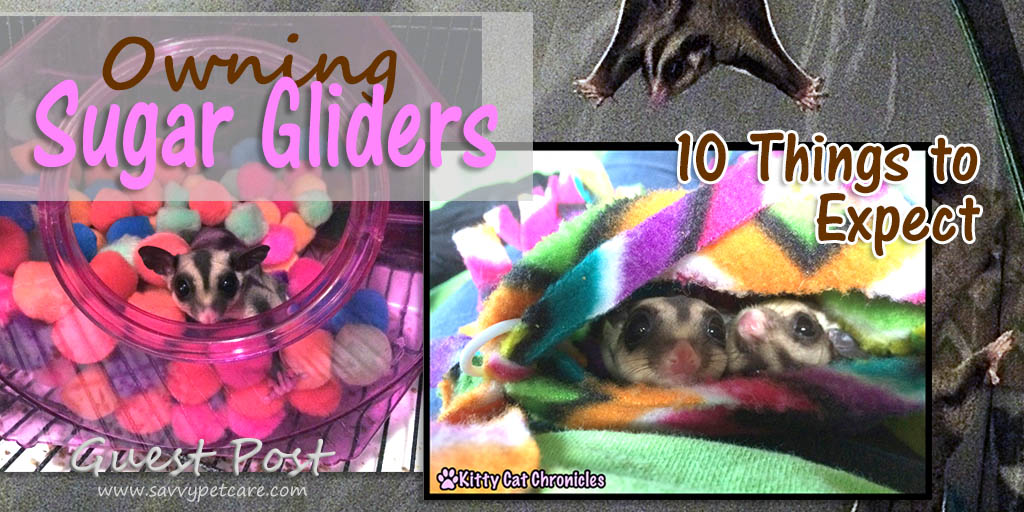 1. They are nocturnal.
Yep, that's right – sugar gliders are nocturnal animals, meaning they are most active during the nighttime hours. That doesn't mean you can't interact with them during the day though. My sugar gliders usually wake up around 8pm and go to sleep around 8am, but I carry them around in a bonding pouch or in my shirt when I'm home during the day and even take them with me when I run errands. They usually just sleep through it all.
Warning: Because of their nocturnality, I wouldn't recommend keeping their cage in your bedroom if you are a light sleeper. They do make a lot of noise during the night scurrying around their cage, running on their wheel, and eating. They also chirp, hiss, crab, and bark!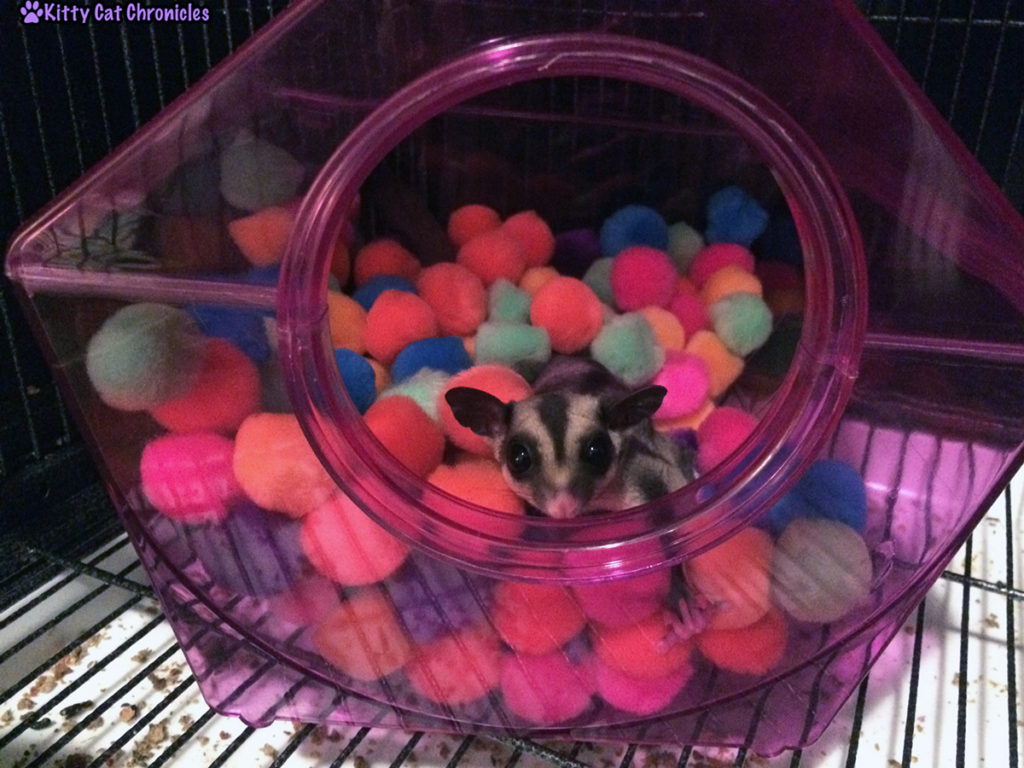 2. They live a long time.
Sugar gliders have an average lifespan of 12-15 years – similar to a cat or dog. That is considerably longer than most pocket pets though. If you add a sugar glider to your family, you are in it for the long haul, so be sure you are committed before bringing them home!
3. You can't have just one.
People joke and say you can never have just one cat (I'll attest to that – I have six!). With sugar gliders though, it is absolutely true. Sugar gliders are colony animals, which means they belong in a group. Lone sugar gliders will often become depressed and start over-grooming, refusing food, and even self-mutilating. Sugar gliders should always be kept in pairs, at least. As much as you may hang out with your glider, human interaction is no substitute for the companionship of another glider.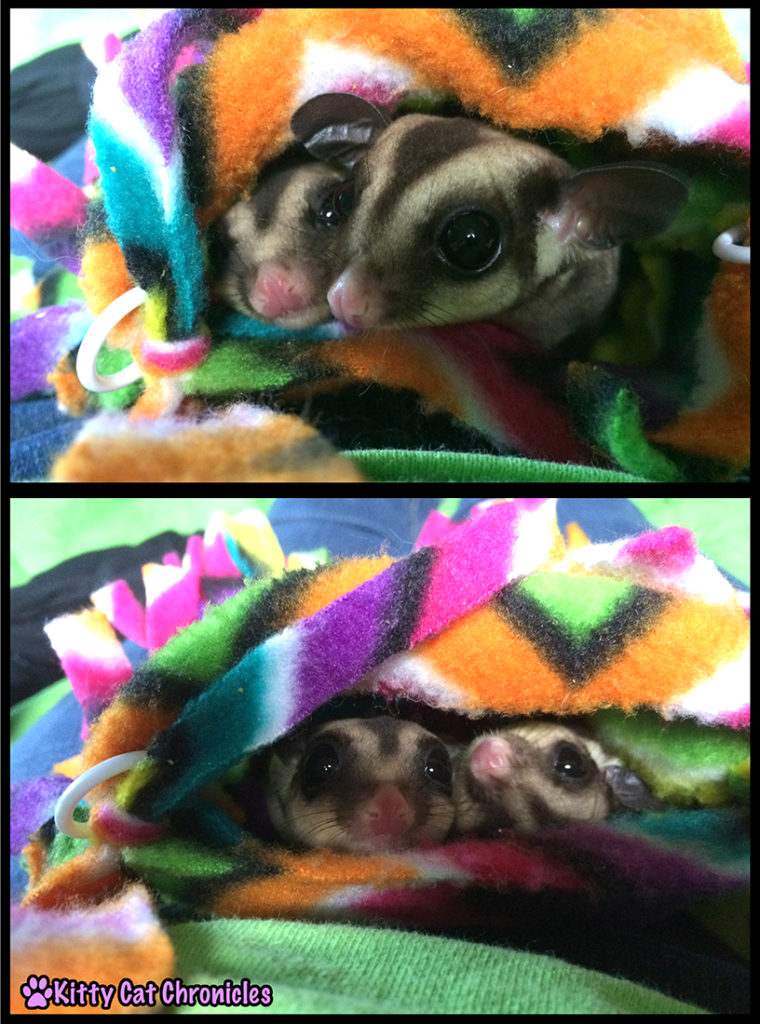 4. They have very specific nutritional needs.
Sugar gliders get their name because they glide like a flying squirrel, and they LOVE sweet things. If they had it their way, they would eat nothing but sugary foods. However, they actually require an extremely balanced diet of protein, fruits, and vegetables. An unbalanced diet can cause health problems such as a very smelly glider to hind leg paralysis. Unfortunately, there is no commercial sugar glider diet available that meets all of their nutritional requirements. To be sure that sugar gliders are getting a diet that meets their needs, it is recommended that they eat what is known as a homemade "staple diet." You can find the recipes for these diets at www.sugie.info. I personally feed the Pet Glider Exotic Diet (TPG) to my gliders. It takes me about 45 minutes to an hour to make a month's supply and is very easy and inexpensive to prepare.
5. They require a stimulating environment.
Sugar gliders can easily become bored which leads to depression, so it is important to provide them with a lot of mental stimulation and exercise. A sugar glider-safe exercise wheel is a must have item. You can also provide them with foraging toys (toys that you can hide treats and food in) and special treats like eucalyptus leaves and branches. In the wild, sugar gliders are tree dwellers, so it is also important to invest in a large enclosure that has a lot of vertical space (minimum dimensions of 2 feet deep by 2 feet wide by 3 feet tall) so they have plenty of room to jump and climb.
6. They require an exotic veterinarian.
Unfortunately most regular veterinarians do not treat sugar gliders, so you will want to make sure you have an exotic vet nearby before you bring your gliders home. You wouldn't want to get stuck in an emergency situation and not have a vet to take them to. Exotic veterinarians are also usually a bit more expensive than a regular vet, so be prepared for a larger bill than for your cat or dog.
7. They will not be your best friend right away.
One of the biggest reasons sugar gliders get returned or turned over to a rescue is because many people don't understand how much time, work, and patience goes into bonding with them. They expect for their sugar gliders to love them instantly, and when that doesn't happen, they think something is wrong with the gliders. Sugar gliders are exotic animals and are not naturally trusting of humans. Bonding with them is a slow process that can sometimes take up to a year. It took a few weeks before my gliders would even let me touch them; a few months before they would climb into my hand; several months before they would let me pick them up. Patience is definitely key – if you try to rush the bonding process, you can do more harm than good. This is definitely a case when the old adage "Slow and steady wins the race" is absolutely true.
8. They are not legal everywhere.
The legality of owning sugar gliders varies from state to state. Some states ban them entirely, while others ban them only in certain cities. Some states require you to have a permit to own them, while others require no documentation at all. Below is a list of the places in which there is some type of law regulating sugar glider ownership:
Sugar gliders are completely illegal in California, Hawaii, and Alaska.
Sugar gliders are illegal in the cities of New York City (NY), Salt Lake City (UT), and St. Paul (MN) but are legal in the rest of the state.
New Mexico, Utah, and Pennsylvania require that you have a special permit to own sugar gliders.
Georgia requires that sugar gliders must be purchased from a USDA licensed breeder.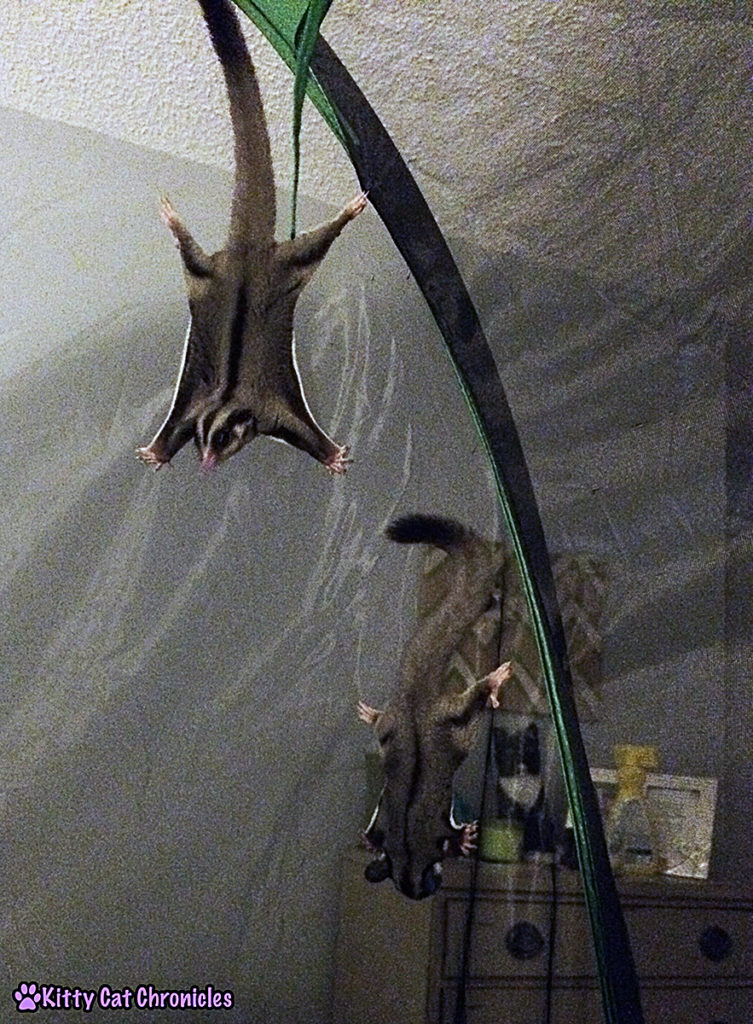 9. They should not interact with your other pets.
Believe me, I know how tempting it is to want to try to get your gliders to bond with your cat/dog/other pet. I imagine all the time how adorable it would be to see my two gliders snuggling with my cats. In reality though, that would be extremely dangerous for the gliders. Gliders move quickly and suddenly, which can trigger the prey instincts in cats and dogs. They are also very small and fragile, so even a playful swat or nibble from a cat or dog could be deadly to them. On the flip side of the coin, sugar gliders have been known to kill other small animals such as rats, gerbils, birds, etc. Of course you will find photos online of sugar gliders with other pets, but any responsible glider owner will tell you that it isn't worth the risk. I've heard plenty of horror stories of gliders who had been friends with a cat/dog/bird/you name it for years, and then in a matter of seconds it all came crashing to a halt. Just don't do it. Better safe than sorry, I always say!
10. You will become addicted.
Yeah, so sugar gliders are a little more high maintenance than the average pet. They are also loads of fun, absolutely adorable, and will steal your heart. The more time you spend with them, the more you will fall in love, and the more you will want MORE! Trust me. They are worth every bit of "hassle" that they may be – and once you get used to taking care of them, none of it even seems like a hassle anymore. It is all worth it to have a couple of little creatures that want nothing more than to be on you all the time. You will find yourself carrying them around with you all day, not wanting to leave the house without them.
So, do you think you want a couple of sugar gliders?
Pin It for Later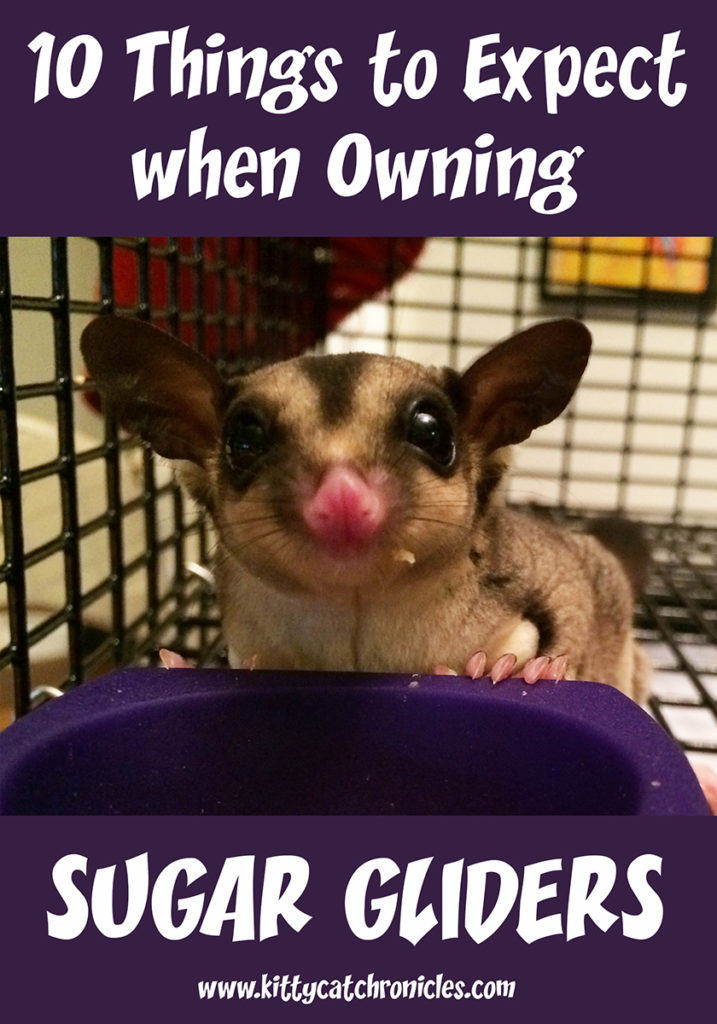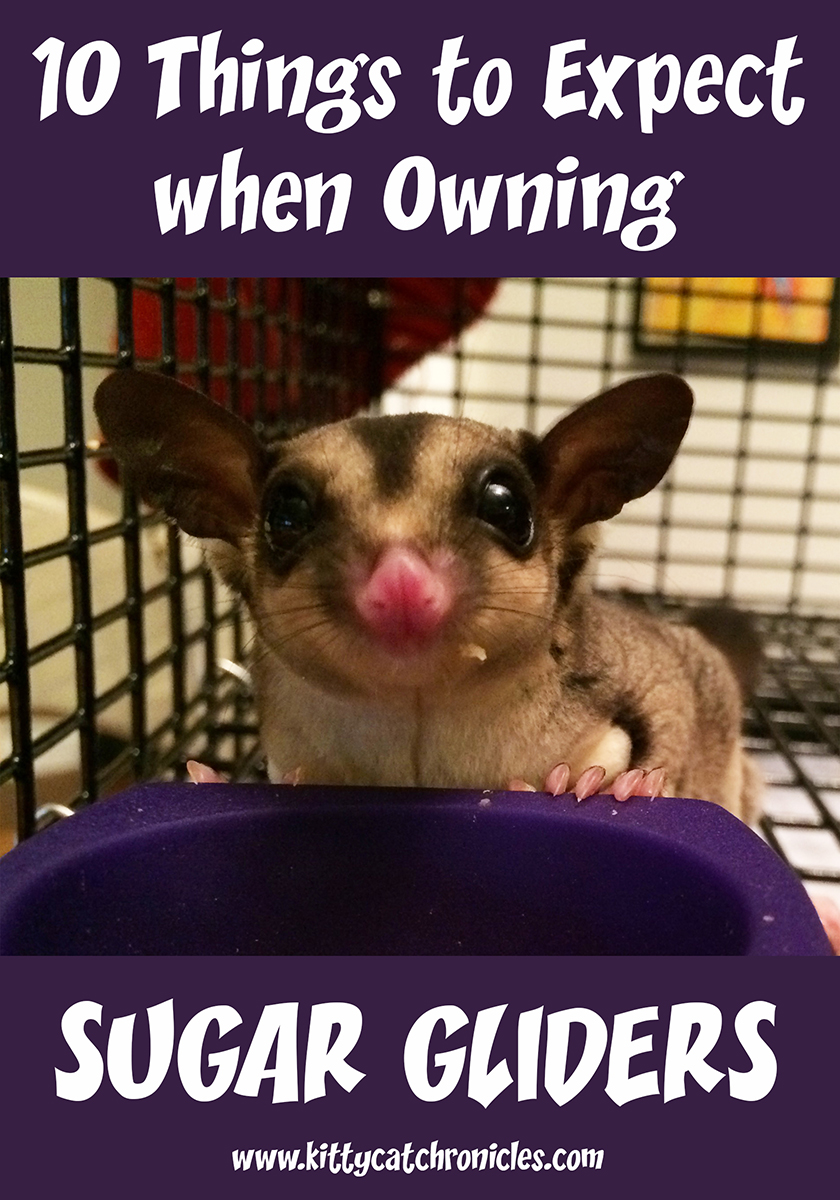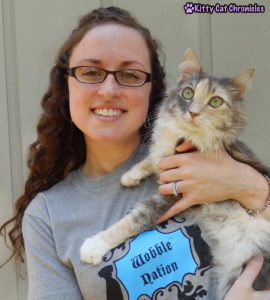 Emily Hall is the blogger behind Kitty Cat Chronicles – a blog focusing on life with her six crazy cats, her dog, and her two sugar gliders! Writing about anything from special needs animals, to traveling with cats, to feline health and wellness, to product reviews, to the daily antics of her crazy fur-gang, Emily aims to entertain and educate. Stop on by to say "Hi" to Emily, Delilah, Sampson, Sophie, Sassy, Caster, Kylo Ren, Lucy, Jubilee, and Sydney (and her husband, Bobby)! Besides on their blog, you can find them all on Facebook, Instagram, Twitter, and Pinterest.

If you are a blogger and interested in contributing to this series, please email me at info@savvypetcare.com.


(Visited 23148 times, 1 visits today)