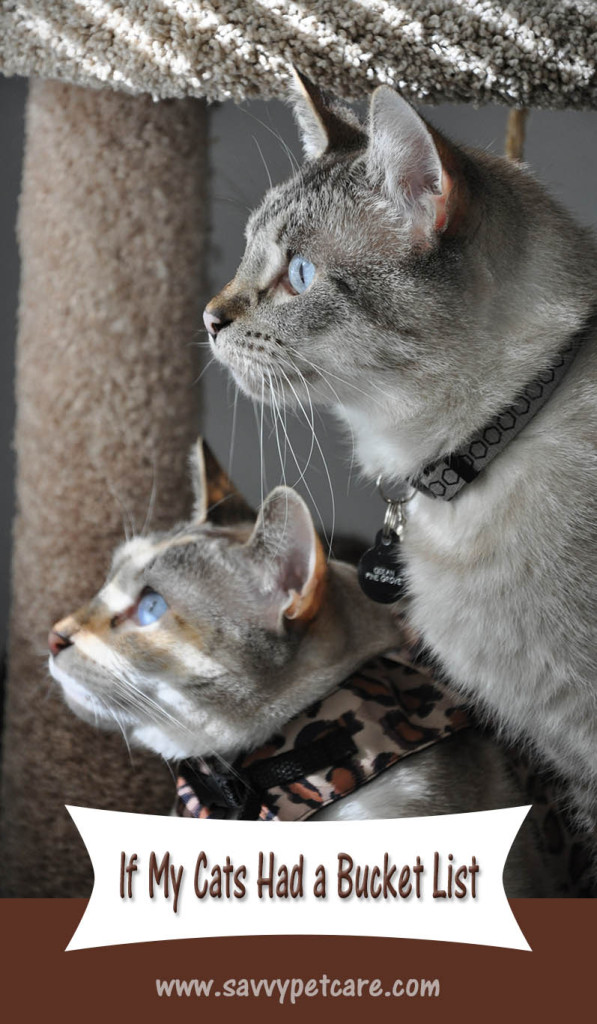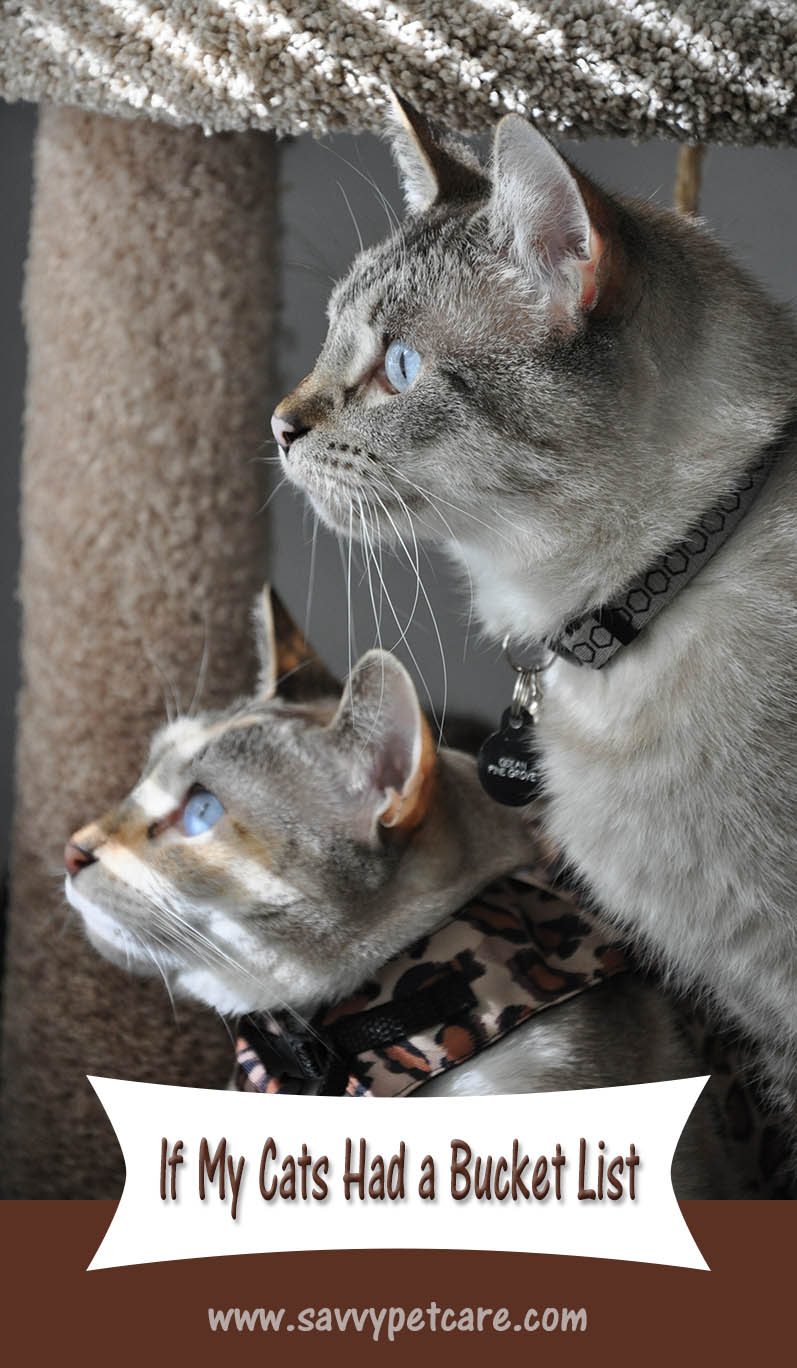 I recently read a post on GoPetFriendly.com that really got me thinking. The author mentioned the stories you may have seen recently about people who took their dogs on great adventures after learning their dogs were terminally ill. The post was really about living life to the fullest every moment–starting right NOW. After dealing with a life-threatening illness, surgery and chemo therapy, this post really struck a chord with me.
As part of my healing, I retired early and moved to a beautiful place with few pressures left in my life. I'm doing what I love, spending time with animals, my own and my pet sitting clients' pets.
What that post really got me thinking about was my cats. Are their lives as full and rich as they could be? Dogs, to me, are easy. They are gregarious animals that love going on adventures with their humans. But what about cats? If my cats had a bucket list, what would be on it?
So I started thinking about what cats like: eating, sleeping, hunting, climbing, and hiding. These were the main things that came to mind. I started assessing how I am doing in each area and how I could improve it — what I could add to their bucket list.
Eating
I feed a homemade raw diet. I am constantly researching to make sure I'm feeding a nutritionally balanced diet that is the best it can be. I rotate the proteins I feed. They eat better and more exotic than I do! I know they would like me to add more treats to their list. OK, maybe.
Sleeping
There's lots of sleeping going on here and there are beds all over the house. I think we are good there. In spite of all the beds, they prefer to cuddle with me, at least when it is cold, so there will continue to be lots of that.
Environmental Enrichment
The things that are left, hunting, climbing and hiding, all fall in the category of environmental enrichment and where I feel I fall a little short. Here's where I could add some great things to their bucket list.
I rarely make New Year's resolutions because I don't like setting myself up for failure. One thing I did decide at the beginning of the year, though, was that I would play with my cats more. I know they don't get enough exercise. They rarely play on their own but come to life when the wand
or laser toys
are brought out. I'm already falling down on that since the first of the year so I need to work harder at it.
They have a lot of small toys for play on their own but there are things I could do to make them more fun. I could put toys in a box with a small hole or in a bag to shake around. There are lots of great toys on the market aimed
at this play drive.
They have multiple cat trees and window shelves
, including one that is heated. I have put a couple of shelves on the wall to give them even more vertical space. I have two more shelves that have been sitting around since last summer and a remodel I want to do on a large cat tree. Sounds like a good project for this rainy weather we've been having.
I've put bird feeders at several windows and hummingbird feeders on the deck. I find it interesting that these feeders don't see much action in the winter. When the birds are scarce, I could try one of the cat entertainment DVDs
that showcase prey.
They have boxes and cubes that they can hide in and there's always the furniture to hide under in a pinch or for an ambush. Mine aren't into hiding that much. I'll usually find them in one of the boxes when it is chilly and they are trying to keep warm while they are sleeping. I do want to cover and decorate one of their boxes that is just a cardboard box they love.
I think one of the best things I can do for my cats is to get them outdoors. I have big plans for a catio in the spring and I hope they love it. In the meantime, I bring the outdoors in by growing grass (not often enough) and occasionally giving them leaves to play with.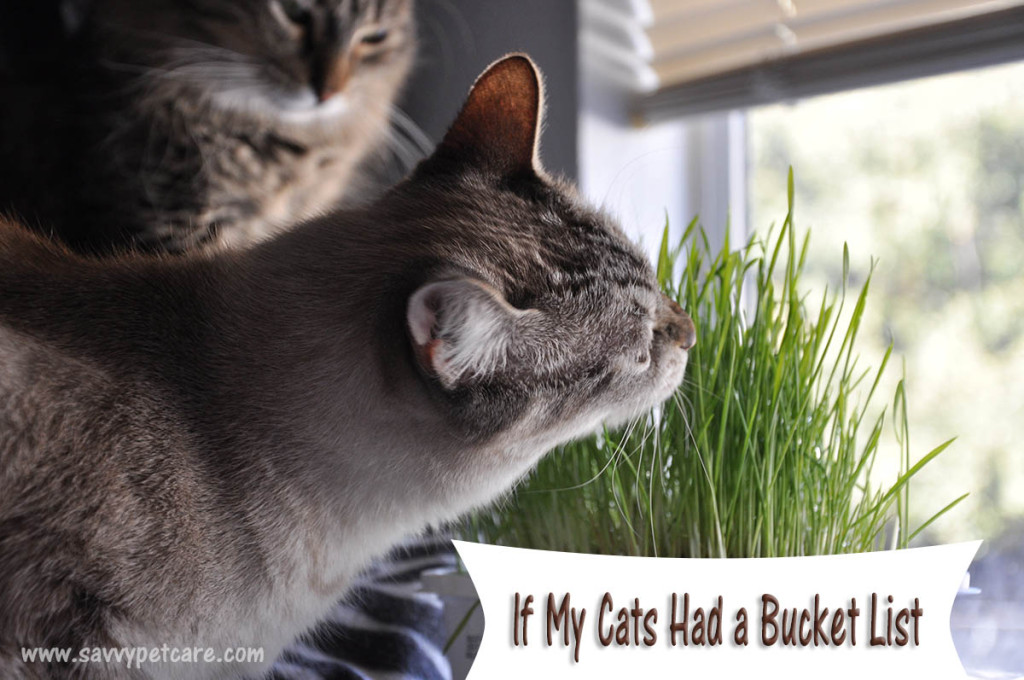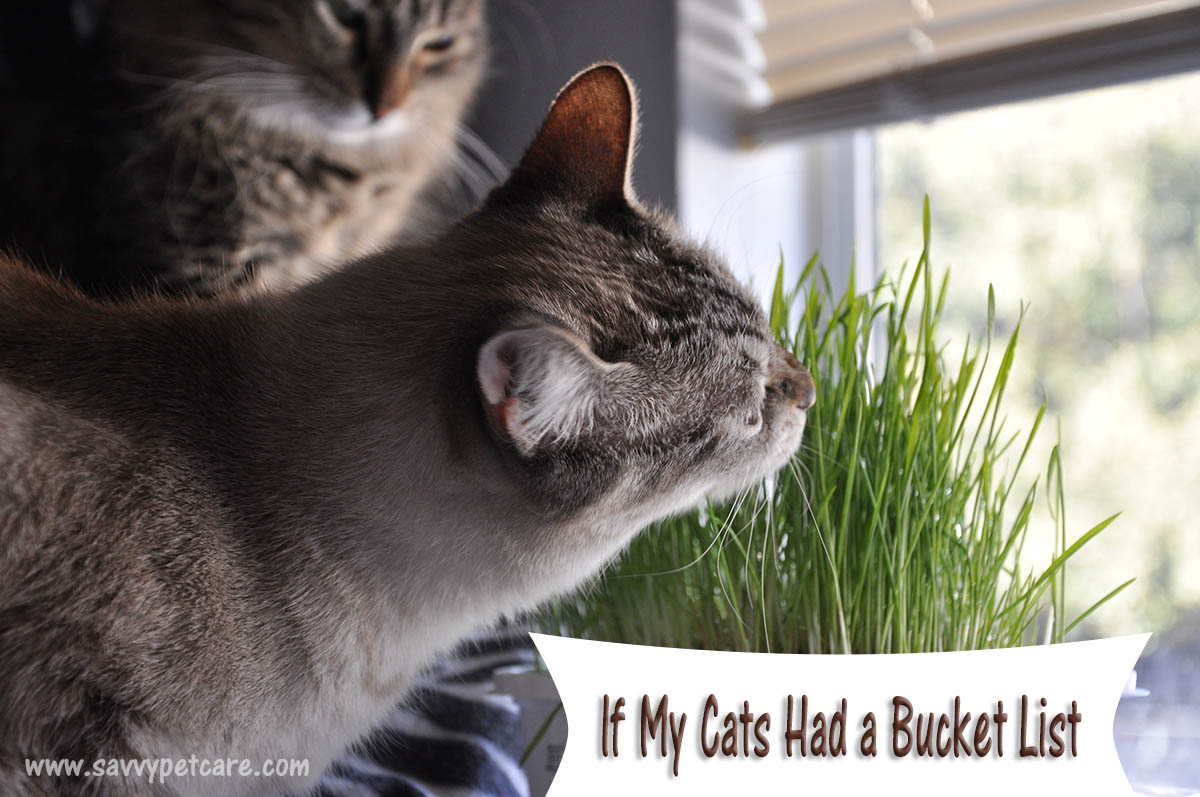 Keeping cats mentally stimulated reduces stress, depression and aggression.
Click To Tweet
My Cats' Bucket List
So here's what I think my cats would like to see on their bucket list. I'll evaluate it periodically to see how I'm doing and what else I can add to it.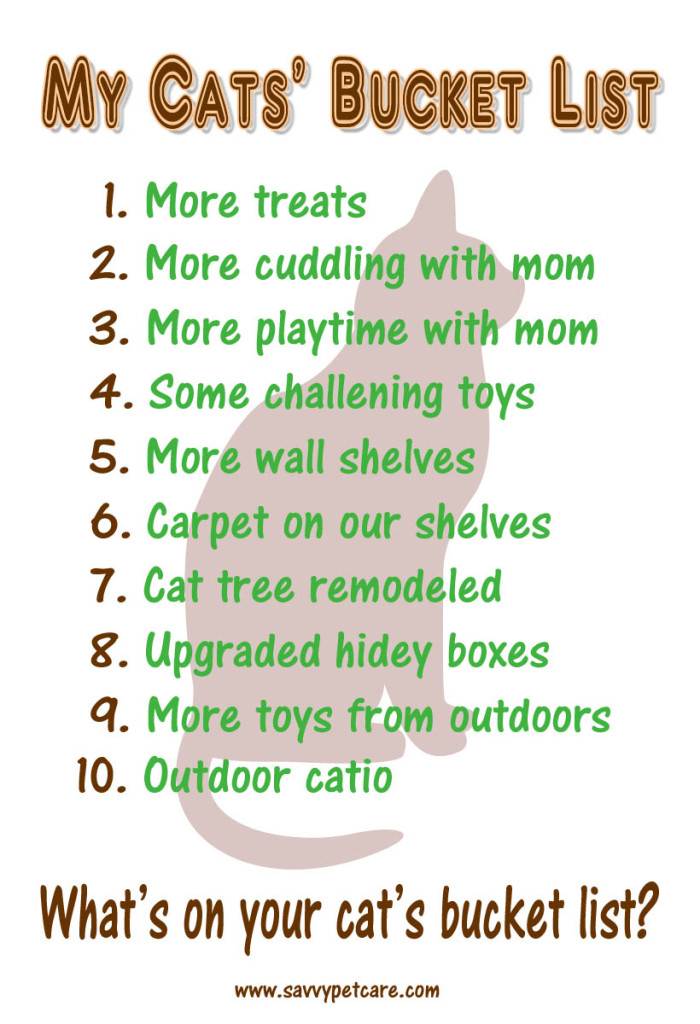 (Visited 7734 times, 1 visits today)