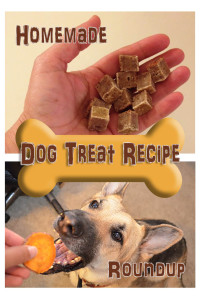 I love cooking but I'm the only human in the house and can consume only so much food. As a result, my cats and my client's and friend's cats and dogs sometimes become the guinea pigs for my pet recipe creations when I feel the need to cook.
I don't make treats very often but when I do, I like for them to be as healthy as possible but, after all, they ARE treats!
Here are a few recipes I found recently that I want to give a try so I put them in this dog treat recipe roundup. They sound yummy. Pop some of these treats in a homemade treat jar and you have an inexpensive gift for a four-legged pal.
If you try, or have tried, any of these recipes, be sure to let me know what you thought in the comments.
Homemade Dog Treat Recipe Roundup–
Just in Time for Holiday Giving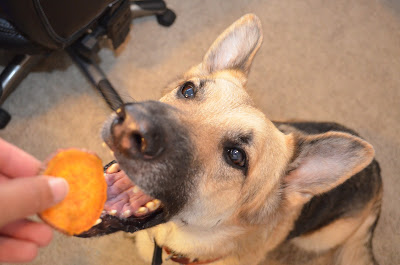 Make Your Own Homemade Sweet Potato Dog Treats in the Microwave Recipe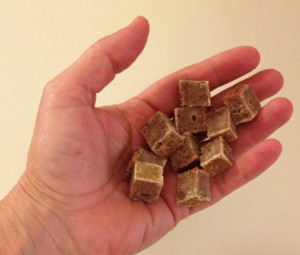 http://eileenanddogs.com/2014/08/29/non-crumbly-brownies-dogs/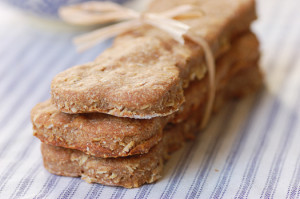 Homemade Dog Treats from A Cozy Kitchen
And you know how you you're supposed to give guests, like, a little gift bag or something? Well, I'd want to give the animals gifts too.  I'd probably give the pigs the leftovers from the reception, the miniature horses would get some sweet apples, I'd give the cats some private time…and the dogs, well, I'd make them these homemade treats.  I bet they'd really like them because I gave them a try and they're not half bad. Sooo if your dog is peering over your shoulder as you're reading this blog post, you can tell them this: these treats have… continue reading.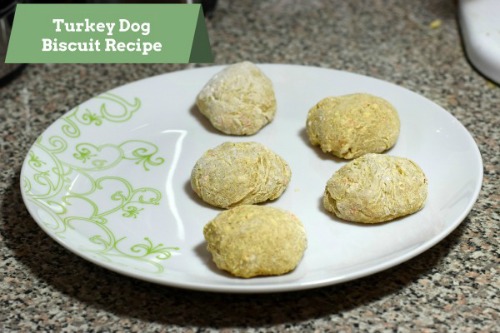 Turkey Dog Biscuit Recipe from Budget Earth
After spending hours online, I couldn't find a recipe that did exactly what I wanted. In the end, I took about five recipes, picked the things I liked most from them, modified that mix with the ingredients we had in the house, and got to work. In the end, I had a recipe unlike anything else I could find, and… continue reading.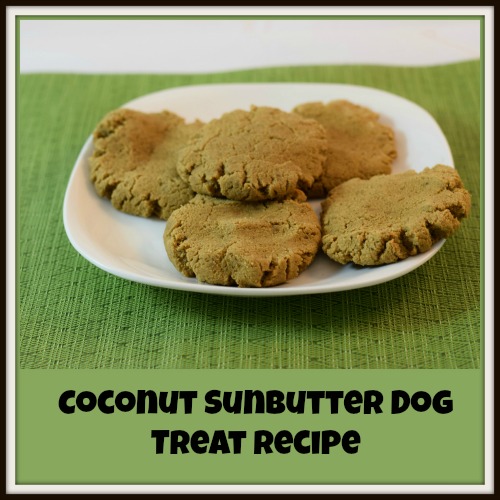 Coconut Sunbutter Dog Treat Recipe from Budget Earth
While I do buy them sometimes when we travel, I am not a huge fan of buying dog treats. Many of the dog treats on the market contain ingredients I couldn't even imagine feeding to my dog. To me, dogs deserve to have treats that contain not only healthy ingredients, but are made to be yummy to humans as well. Let's face it, dogs love table scraps because they taste good and aren't boring like their own dog food. Since it's hard to find treats that meet our criteria for… continue reading.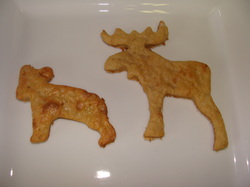 Tasty Tuesday: Leftover Love from Kol's Notes
Leftovers, done right, can easily be made into delicious, wholesome and healthy treats. Take last night's meal, as an example: Mom made roast chicken, baked sweet potato, green beans and a salad. With almost no extra work, these leftovers can easily become SNACKS FOR ME ~and there is NOTHING, I love more than snacks for me~… continue reading.
Remember to let me know in the comments if you've tried any of the recipes in this dog treat recipe roundup. Do you have a favorite treat recipe for your dog?
(Visited 154 times, 1 visits today)